2020-000 Registration Fee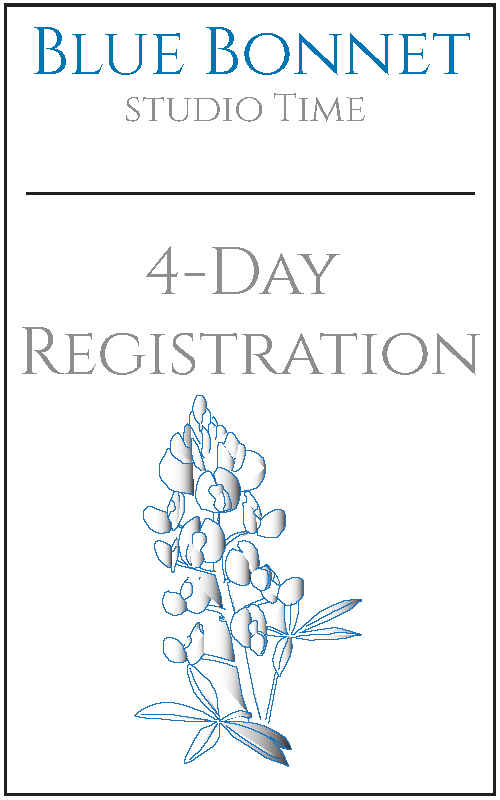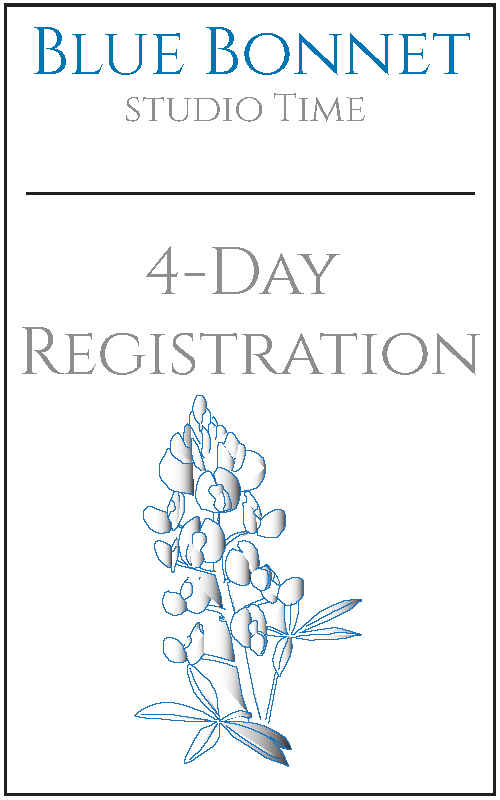 2020-000 Registration Fee
Registration for 2020 is open!
Register for 2 to 4 days at the Bluebonnet Studio Time 2020 event, February 15-18, 2020. Registration fee includes access to classes (kits sold separately) of your choice, access to the event area, access to the store, and the banquet.
All other expenses, such as meals, lodging, extra banquet tickets, and kit fees, are not included in the registration fee.
Price: $625 for four days (requires separate room reservation at the Marriott during all classes);
Don't forget to make your hotel reservations at the Sugar Land Marriott Town Square!
The registrant agrees to release Blue Bonnet Studio, LLC, it employees, owners, or agents from any liability for theft, property damage or personal injury while participating in or attending any or all functions and meetings of the Blue Bonnet Studio Time 2020 event.
Refund policy:
$200.00 is not refundable!

Before July 1, 2019 100% of refundable

July 1 - October 1, 2019 50% of refundable

After October 1, 2019 NONE
Selection one (You will be contacted to finalize Studio Time.)
Number of Days and Studio Time:
Studio Time is an opportunity for students to stitch on their favorite project in a class setting.
If the Teacher agrees to create a stitch guide with a thread list independently with her enrolled student, all business must be conducted outside of BBST and completed by December 15, 2018. No requests after December 15th will be considered by the teacher. This service is purely a courtesy performed by the Teacher and is not part of the Teacher's Studio Time requirement.
About Meredith Willett
A love of all things needlepoint, from the rough texture of needlepoint canvas to the smooth glide of silk, inspired Meredith to teach this beautiful hand-craft. She has happily shared her knowledge with local stitchers as well as with stitchers around the country. Meredith is a member of the American Needlepoint Guild and teaches at national seminars.
She also teaches for local guilds, including ANG, the Embroiders Guild of America, and at The National NeedleArts Association markets. Meredith is frequently invited to teach at retail shops throughout the country
She has had articles published in the national magazine Needlepointers and the independent magazine Needlepoint Now. Along with her magazine writing, teaching, and retail business, Meredith and friend Beth Robertson, have co-authored Knots, Fur and Turkeywork.
Always eager to learn, Meredith has attended classes at the Royal School of Needlework in London, England; studied gold work in several museums and cathedrals in England and Scotland; and, has taken gold work classes from Jane Lemon and Tracy Franklin. Meredith's knowledge is generously shared with her students.
Kit contents: Not applicable.
Supplies: Student brings their own project with all needed supplies and usual stitching supplies, light and magnifier, etc.